Frequently Asked Questions (FAQ)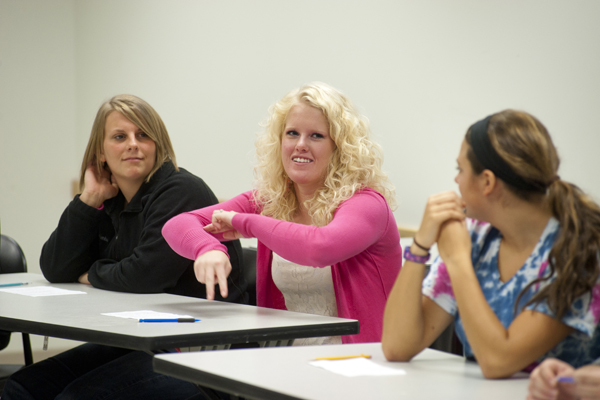 What classes are offered each semester?
Several sections of all levels are offered autumn and spring semesters.  A limited number of courses may be offered in summer semesters but is not guaranteed. Check Buckeye Link Master Schedule or contact us in advance. 

Top of page
How are the courses listed on Buckeye Link?
American Sign Language 1101: Elementary Sign Language I
American Sign Language 1102: Elementary Sign Language II
American Sign Language 1103: Intermediate Sign Language

Top of page
Can I minor in ASL?
YES.  As of Autumn 2020 the ASL Program offers a minor in American Sign Language Studies. Our ASL 1101-1103 series fulfills the university's general education (GE) foreign language requirement as well as the pre-requisites into the minor.

Top of page
All of the ASL class sections that fit in my schedule are full. What can I do?
Put yourself on the waitlist for each class section that fits in your schedule. Contact the instructor prior to the start of the semester and show up to the first class to indicate your interest.  If there is enough space in the classroom the instructor may allow you to stay for class so that if you are enrolled through the waitlist, you will be on track.  Otherwise, continue to monitor your status on the waitlist and be prepared to attend and participate in class if you are enrolled.

Top of page
I'm on a waitlist for ASL 1101. Can the instructor sign me in?
No. Our classes are capped at 24 students to ensure quality interaction with your classmates and your instructor.  Waitlists are run automatically by the OSU Registrar through the first Friday of every semester. Instructors can only sign in a student after that IF there is a seat available. This is at the instructor's discretion and on a first-come, first-served policy.

Top of page
What are my chances of getting in to the class if I'm on a waitlist?
It all depends on the circumstances for any given semester, such as if and how many seats become available and your position on the waitlist. The ASL Program has no control over the waitlist process.

Top of page
I want to start and finish the ASL series in time for my projected graduation date, but the classes are full. Can I take a class at another college/university and transfer that credit?
This is not recommended, but it can be done. First, you will need to know if an ASL class(es) at another institution has already been approved for automatic transfer credit to Ohio State. See: http://www.transferology.com/.  If it does, you will have to complete the  ASL class(es) with a passing grade and submit your  transcript to the OSU Registrar before you can register for the subsequent OSU ASL class. This means that you will be registering after the OSU registration period has opened and may have decreased chances of being able to enroll in a class and may be delayed one semester. 
*Note: Course Enrollment Permission Forms will not be signed for students transferring ASL credit from Columbus State or any other college/university. 
If an ASL class(es) at another institution does not transfer automatically to Ohio State, you will then need to submit those course materials for evaluation.  This evaluation process may take up to three weeks and does not guarantee equivalent transfer credit approval. See the transfer credit page for more information.
If your projected graduation date is your priority, it may be in your best interest to consider other language options. We would love to have you in our series, but we want you to reach your goals too! 

Top of page
What can I expect in OSU's ASL classes?
Our classes are capped at 24 students to ensure quality interaction with your classmates and your instructor.  
Our classes are taught primarily in the target language and require that all students adhere to the "voices off" policy.  
Our classes provide a safe and positive learning environment for our students.
Your attendance and participation in every class meeting is expected and highly encouraged for your success.

Top of page